excavation calculations & analysis
based Cut/Fill/Balance
Calculations and Reports.
What to send us:
Conventional paper plan sheets or full Civil plan sets by Fedex, UPS, or USPS. It is a good idea to send all relevant documentation and project information, including any phasing plans, soils reports, and construction detail sheets. We will scan the entire package and would be glad to return your plans to you by return Fedex or UPS. (learn about our plan copy service)
Note: Unless instructed otherwise, we routinely will request a copy of the digital A-CAD source file directly from the project Civil Engineer.
Or, e-mail attachment image files of the plan sheets and documentation. Larger files may be uploaded to our secure FTP site and exchange "Plan Room".
Or, e-mail attachment CAD files (.dwg or .dxf) of the plan sheets and documentation. Larger files may be uploaded to our secure FTP site and exchange "Plan Room".
We can work with almost all types and formats of engineering and conventional survey data including native Autocad .dwg or .dxf, MicroStation .dgn, and ASCII coordinate text files (.asc , .csv, and .txt).
We encourage you to call us directly at 772-225-0909, Ext #11; and we will arrange for the most efficient way to access your project.
What We Use:

Computerized Plan Take-Offs
Earthwork 3D™ is accepted in the industry as the "most effective tool for modeling, analyzing, digitizing, and documenting dirt."�

Earthwork 3D™ streamlines data entry from plan sheets or CAD files, corrects for stripping, structural sections, compaction and rock, and creates the fastest, most accurate possible quantity takeoff and 3D model of compacted subgrade. It generates exportable electronic files suitable for use in GPS grade management, GPS machine control, and CAD polyline functions.
Digitizer board manually traced take-offs from conventional printed plan sheets.
Conversion / Importation of supplied Auto-CAD digital files for quantity analysis. (SEE SAMPLES - QUANTITY REPORTS)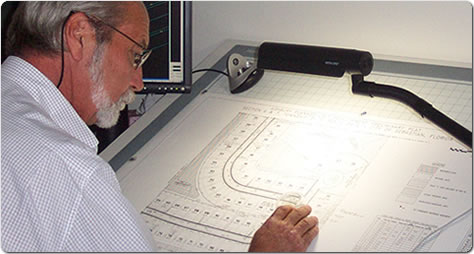 What you Receive:
Cut / Fill Reports: Accurate excavation and embankment details broken down by cut areas and fill destinations, formatted in easy to understand tables and supplied in MS Excel digital files. We can include your preferences for stripping losses and variable compaction factors. (SEE SAMPLES - EXCAVATION REPORTS)
Earthwork 3D Graphics: Computer generated 3-dimensional perspectives of the existing site, proposed site and subgrade surfaces to better visualize grading objectives and aid in construction planning. (SEE SAMPLES - CUT-FILL GRAPHICS)
Cut / Fill Locations and Values: Color and text coded Cut/Fill values with a Cut Stake Grid or Cut/Fill value contour presentation. (SEE SAMPLES - CUT-FILL GRAPHICS)
Experience Counts:
Our team has years of hands-on experience in land grading, major excavation projects, and general civil construction techniques. This level of experience is vital for formulating realistic surface models and accurate calculations.